About 400,000 student-athletes participate in college games each year. Isn't it fun to be playing in front of thousands of American spectators in a major area like Los Angeles County!? A lot of times, I hear younger generations say "Oh, you went to play and study in the US on a scholarship, so everything was free for you? I also want to do that!" Well two things: first, a lot of them assume that athletic grants are all full scholarships, and secondly, they believe that they do not need good grades to advance to that level as long as they are a star athlete. Unfortunately, this is not the case. The truth is: you have got to Cover All The Bases prior any application to compete at collegiate level.
According to the National Collegiate Athletic Association (NCAA), only approx. two percent of all high school athletes are awarded some form of an athletic scholarship. Why is that? 

Check No. 1: Which sport do you play?
Mostly, athletic scholarships are regulated by the NCAA who structures the athletic programs of many universities in the United States and Canada. There is also the National Association of Intercollegiate Athletics (NAIA), but I will focus on the NCAA roof here since this is where I have played under and where the big programs are part of. NCAA memberships are divided into three divisions and only colleges organized in Division I and Division II will offer athletic scholarships. However, the number of scholarships that each school can distribute is strictly limited by the NCAA and depends on which sport you play. There are headcount sports as well as equivalency sports.
Headcount sports:  The award itself is always a full scholarship and the number of student athletes receiving an award cannot exceed a certain limit. Those sports are generally those which bring most revenues to the colleges and only include the following: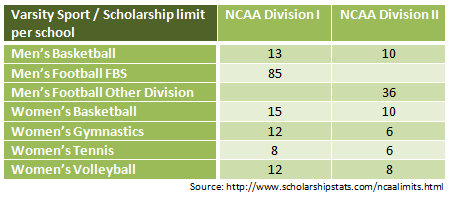 Equivalency sports:  Scholarships can be split into partial awards. A coach can divide them in halves, thirds or even quarters up to a certain equivalent of full scholarships. Most sports fall under this category (e.g. Baseball, Track & Field, Soccer, Golf etc., and also Men's Tennis).
For example, while Women's Tennis as a headcount sports will distribute 8 full scholarships covering for all expenses, Men's Tennis as an equivalency sports can only allocate awards equivalent to 4.5 full scholarships in any proportion amongst all team members. So, one male player could get an athletic grant worth 50% and another one would only receive 20%.
It is extremely rare for even one athlete in the team to receive a 100% scholarship. According to the New York Times, "the average athletic scholarship is nowhere near a full ride, amounting to $8,707 [per year]. In sports like baseball or track and field, the number is routinely as low as $2,000." Hence, most student-athletes actually need to cover the cost of their education also through other ways, such as student loans, academic scholarships, personal funds etc. Remember this when searching for an opportunity to combine sports with academics.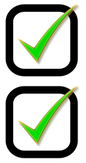 Check No. 2: Do you comply with NCAA Rules and Requirements?
If you have decided to give college athletics a closer look, don't make the mistake of thinking enrollment will be a free pass for you just because you are a great athlete. Actually, the opposite is the case. You have to learn about academic and eligibility requirements. Please immediately register with the NCAA Eligibility Center for this. All players must have certain academic classwork done prior to entering college and must meet amateurism standards set by the NCAA. Personally, I cannot emphasize on the ladder enough because I know too many players who have known the rules, still played professionally leagues and were then surprised why they have lost eligibility for playing college sports. If you are denied eligibility, then you are certainly also not going to get a scholarship.
I was lucky enough to register at a time when there had only been a few international student-athletes in the US and the NCAA had just changed rulings on playing Bundesliga in Germany. A few head coaches informed me back then on the requirements and after filling a dozen of NCAA documents via my home tennis club, I was made eligible a couple of months later. From my experiences, I can only recommend to start checking rules for your specific sport in the very early ages of your recruitment process. Otherwise, you might waste time preparing recruiting videos and writing motivation letter to coaches only to find out that you will never even be able to go to college as an athlete, at least not at a NCAA membership school.

Nowadays, the NCAA Eligibility Center has made registering much more transparent. Go to their website and you will be guided through the whole process. Please feel free to also contact me if you have any further questions on the process or certain rules. 

Check No. 3: Can you also solve problems off-court?
While being recruited by a head coach can certainly be an advantage over regular college applicants, you still need to be very close academically to what the school seeks out in any student. If you are an average student in the classroom, most likely sending motivation letters to coaches of schools like Harvard University will not lead anywhere. Whether you are American or international, every applicant to an American undergraduate program must take the SAT and submit test results. It is a standardized, 3 ½ hour exam measuring literacy, numeracy and writing skills. The results provide universities the ability to compare all candidates and to make admission decisions. Each year, colleges publish the average SAT scores for the incoming class which helps aspiring students to know what kind of level they have to achieve to get into their dream school. If you go to The Princeton Review, you can find scores on each of the college profiles. 
There have been many changes to the SAT since I have taken it in 2005, and for details on the current structure, it is best to visit their webpage directly. I want to rather share my experiences on how preparation is key to a successful test here. I was only in 11th grade when I took it, and unlike many Americans, I did not enroll in any preparation workshop group. I intensively studied with practice guides at home, in the car, during waiting times at tournaments – simply everywhere I could. For the very smart readers here, do not underestimate the test. It is not rocket science, but you have to get familiar with the type of questions and the timings of each section. Great results will definitely increase your chances for a scholarship on top of the good grades you already have.  And generally, the earlier you can show your test results to coaches, the universities and the NCAA , the better. Coaches always prefer to offer awards to athletes who show efforts to succeed in the classroom.
Before hitting the hard courts of LA or any other major city, there will be many other things coming right at you when considering to continue your career at the collegiate level:  athletic training on regular days, competing in tournaments, going to school, learning for final exams, preparing motivation letters, shooting recruiting videos, applying for a visa, undergoing interviews, packing things, setting moving dates etc. Manage your time wisely to Cover All The Bases prior considering an application and going into a coach's decision to offer a scholarship.