To some who don't know me, I seem like a blonde girl wandering around in different countries with no strings attached living the good life. To former teachers, professors and classmates, I have always been a student-athletic hero winning games, appearing on billboards while also graduating with summa cum laude honors. To current teammates and my director, I am hoping that I am this young professional willing to work hard and to take learnings from current pressures to innovative solutions off-court. Have you ever wondered how it feels to be put into these different types of shoes at the same time? Could you walk in all of them?
I am speaking in analogies of course. But as the USA Today revealed that the type of shoes you wear really say a lot about you, you can guess from my different roles in life that I need all kinds of different shoes – from basics to unusual. With this post, I would like to give you a hint of what types of shoes I like and which ones would be the most ideal for you to wear in similar situations. I have tried to narrow it down to a footwear collection I think describes each situation best. 
Situation No. 1: The blonde girl living the good life
Statement Sneakers for Travelling and Exploring: Gone are the days when you had to dress up hoping for an upgrade to an early, 14-hours business class flight to Los Angeles or for a great seat at this famous restaurant. Look at all the fashion bloggers. Accessorize your outfit with a pair of new bulky sneakers, combine it with a designer bag or cool sunglasses and you will look trendy and sophisticated while feeling so comfortable with no blisters at the end of the day. 

Ankle Booties (f)/Chelsea Boots (m) for Every Season Night-Out: Besides today's sneakers, booties are probably the most common shoe found in any one's closet, including mine. Ankle botties (female) and Chelsea Boots (men) pretty much match with whatever you have got to wear whether a dress or a pair of jeans. They serve every season and almost every occasion from days at school to nights in a bar. During Spring, you won't have to be scared that someone trips on your toes compared to when wearing sandals or flip flops. And during Fall, they can save your feet from getting wet unlike sneakers. 
UGG Boots for Cold Winters: Ok, I agree with you: neither do they look great nor are they good for your feet. Osteopathic medicine experts even say that they can lead to ankle, hip and back problems. But they will always keep you warm! With Uggs, you will never ever get cold feet and it just feels like putting your feet in butter. When I went to college, they were the most highly desired shoe and sold out everywhere in NYC, especially during the 2007-2008 Winter. And now? On Friday, The Guardian cited Vogue magazine declaring the UGG boot revival not only for women but also for men. As recently seen on Rihanna, Cara Delevigne, Jennifer Lopez and Heidi Klum, the ugly-cool style is coming back to fashion.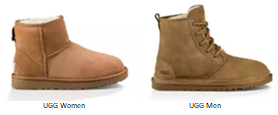 Situation No. 2: The performing athlete
Tennis shoes: Having played tennis all my life, I could seriously write a novel on this type of shoe. There is difference price ranges and types for every surface out there: clay, hardcourt, grass, smash, carpet etc. I have tried so many, but quite frankly, I have not found that perfect one until today. Even the very expensive ones (they go up to 230 Euros) have caused blisters and grazes. Nike is my choice for hardcourt because they look stylish, are easy to break in and their sole's profile is not as important on this surface. For clay however, this is exactly what you need – a long-lasting sole that is not slippery. Asics, K-Swiss and adidas are perhaps a better choice in this case, but it can take slightly longer to really feel comfortable in them. Here is a selection of the newest models out in the market. 

Running shoes: I prefer running shoes not only for running itself, but also for sessions in the gym. They simply guarantee that your feet have the best support. While fitness shoes may seem more fashionable, they often lack the level of cushion, breathability and long-term stability. I have torn my ankle in 2009 very badly and was out for rehab for many months, so I know first-hand how important stability is. Please never workout in shoes designed for street style! Align on your foot type (e.g. high arche, normal arch, flat arch) to find the right type of running shoe (e.g. cushioning, stability, motion control). 

Situation No. 3: The young professional
Classic Sneakers for Every Day Office Hours: Some may not be allowed to wear sneakers at their place to work at all. But even if you are, you would still want to dress appropriate for your surroundings. If you work in the design department, you might as well wear that crazy, multi-color statement piece, but in the management departments rather keep it simple by wearing classic trainers. You would want to impress with your work, not only with your attire. Below are some examples for guidance that express a more low-key feel and are welcoming in my perspective. 

Ballet Flats for Sophisticated Work Environments: Do you work in a surrounding that requires a more chic dress code, like that of an investment bank or law firm? Choose a ballet flat matching your clothing. In case you like to combine multiple tones and earn the bucks to afford it, choose Chanel. They have the nicest offering in two-tone ballerinas. I have always preferred flats over high heels in the office because it is just so much easier to walk to meetings and presentations. From my own experiences I can tell you that women in top tier law firms wear heels rarely all day long. Real life is not quite "Suits".

Black Pumps (f)/Oxfords (m) for Special Occasions: Once in a while you are invited to special events, such as an awards ceremony, a team week gala or a wedding. You can never go wrong with classic black heels (female) or Oxfords (men). They pull together any outfit and add instant sophistication – unless the event is outside and designed with the typical European/German 'Kopfsteinpflaster' (Cobblestones) on which it is almost impossible for women to walk gracefully.

                                                                                                                     All 4 items currently available at GÖRTZ