5 days to go until Christmas Eve. And I am already completely restless. What about you? I am for sure a real Christmas lover! Most likely due to living hundreds of kilometers away from family & friends since I have been 18 years old, I found Christmas to really be the best time of the year. For me, it stands for upcoming reunions, pure joy and spending time with your beloved ones at home. When do you have all of that in just one week throughout the rest of the year? So, there could not be a better fit this time around than writing a first topic post on GLAM while heading towards Christmas, right?!
Every year, I pack my suitcase while listening to the most renowned Christmas songs days before my actual departure to my parents' house. And also every year, I try harder and harder to not exceed my baggage allowance. Dear airlines, at least for Christmas you could allow 5 kilos more!
(You've guessed right), I usually pack way too many things. Most boutiques and department stores show off their floors with the most glamorous dresses, sexy suits and beautiful gift ideas. If you ever have the chance to travel to Manhattan during the time between Thanksgiving and Christmas, you just have to stop by at Macy's. Their window decorations are so christmassy impressive!
For many, however, this time is less reflective but more hectic than ever before. Work requires highest levels of concentration, various Christmas parties consume time and houses have to be cleaned and prepared for the holidays - this list can certainly go on. With all that, how can you then find the right gifts? Are you perhaps still in need of nice last-minute ideas? Well, you've got lucky that my website went live this week.
To provide you with some inspirations, here are a few things that I will pack and simply love having: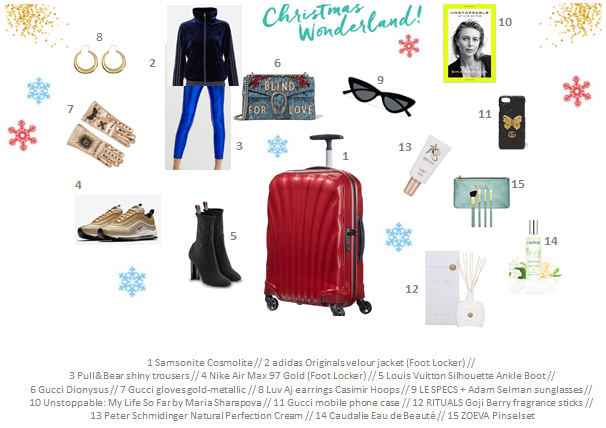 An important note here is that Christmas is really not about the sum of certain gifts. My family, for example, keeps exchanging gifts fairly small amongst adults and the 'Christkind' will bring most to the children around. The one Christmas message is hard to find and you can draw different conclusions depending on your values and religion. Since I am Catholic, I perceive Christmas as giving you the chance to make a new personal start and to face all kinds of challenges with determination, courage and confidence.
With this in mind, I wish you all a Merry Christmas!
---
5 Tage bleiben uns noch bis Heiligabend. Und ich bin schon völlig unruhig. Wie sieht es bei euch aus? Ich bin wirklich ein Weihnachts-liebhaber! Gerade weil ich seit meinem 18. Lebensjahr hunderte von Kilometern von Family & Friends entfernt wohne, steht die Weihnachtszeit bei mir vor allem für baldiges Wiedersehen, für ungetrübte Freude und natürlich für uneingeschränkte Zeit mit all den Lieben zuhause. Gerade weil wir bald Weihnachten haben, ist GLAM damit natürlich genau zu dieser Jahreszeit einen ersten Themenpost Wert.
Jedes Jahr packe ich Tage vor meiner Abreise ins elterliche Haus bei bekannter Weihnachts-musik meinen Koffer und versuche dabei, die gesetzte Freigepäcksgrenze nicht zu überschreiten. Liebe Fluglinien, warum darf man nicht wenigstens zu Weihnachten 5 Kilo mehr transportieren?! Natürlich könnt ihr euch schon denken, dass ich sowieso viel zu viele Dinge mitnehme! Alle gängigen Boutiquen und Einkaufshäuser zieren 
glamouröse Kleider, feine Anzüge und schönste Geschenkideen. Falls ihr einmal die Chance habt zwischen Thanksgiving und Weihnachten nach Manhattan zu reisen, schaut unbedingt an den Macy's Schaufenstern vorbei. Unübertroffen beeindruckend!
Bei vielen ist ja leider gerade die Weihnachtszeit wenig besinnlich dafür hektischer als je zuvor. Unsere Arbeit erfordert gerade vor den Festtagen noch höchste Konzentration, geschäftliche Weihnachtsfeiern stehen an, das Haus muss geputzt werden um in weihnachtlichem Glanz zu erstrahlen – die Liste kann sicherlich noch ausgeschmückt werden. Wie soll man währenddessen noch Zeit finden, passende Geschenke zu finden? Benötigt ihr vielleicht noch die ein oder andere schöne Last-Minute Idee? Na, da habt ihr Glück, dass gerade jetzt meine Webseite live gegangen ist.
Hier sind einige Teile, die ich dieses Jahr mit auf Reise nehme und einfach liebe: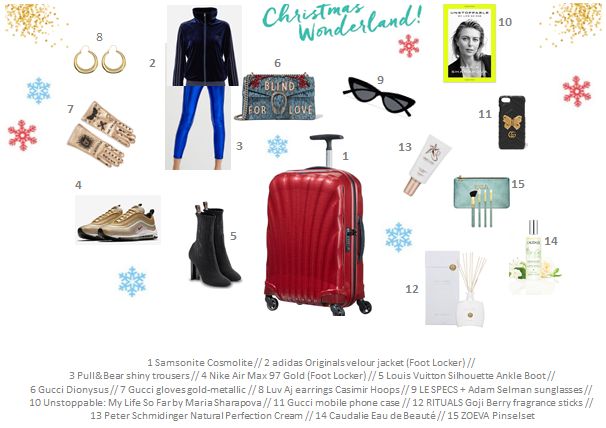 Wichtig ist mir bei diesem Post aber vor allem auch zu erwähnen, dass es bei Weihnachten nicht um eine bestimmte Summe von Geschenken geht. Meine Familie zum Beispiel hält das gegenseitige Schenken sehr im Rahmen und das Christkind beschenkt meist nur die Kinder. Die eine richtige Weihnachtsbotschaft gibt es vermutlich nicht und man kann sie aus vielen verschiedenen Blickwinkeln betrachten. Aus meiner katholischen Betrachtungsweise heraus behaupte ich, dass Weihnachten einem die Chance zu persönlichem Neuanfang schenkt. Man soll mit Entschlossenheit, Mut und Zuversicht den verschiedensten Herausforderungen begegnen.
In diesem Sinne wünsche ich Euch frohe und gesegnete Weihnachten!